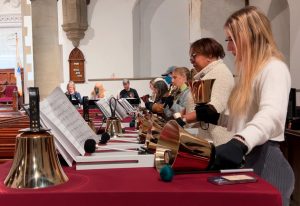 Our English Handbell choir, the Calvary Ringers,  have been preforming at Calvary and in the community for approximately 50 years.  Our current choir includes three generations of ringers (literally!)  and ranges in ages from 16 year to over 60.
The Calvary Ringers perform during Sunday morning services once a month during the season from September though June, and tries to play every Sunday in Advent and Lent.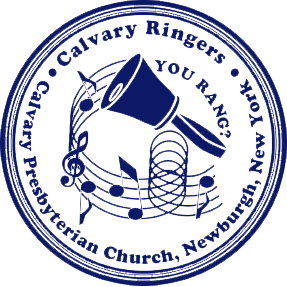 The choir has also been part of the Hudson Valley Handbell Festival/Conference the last Saturday in April every year,  for many years, and often plays solos at the festival.  For more information  about the festival, click here.  The choir has also preformed concerts at various locations throughout the Newburgh area and often plays at the Newburgh Ecumenical Thanksgiving Services.
If you are interested in becoming part of the interesting and active ministry, please contact the director, Sue Young by clicking here.