---
For photos of the original fire damage and links to news articles scroll down.
Updates in the column to the right and on the Calvary News page.
---
Check out the progress:
(for more videos visit our YouTube Page)
Original damage 3-5-20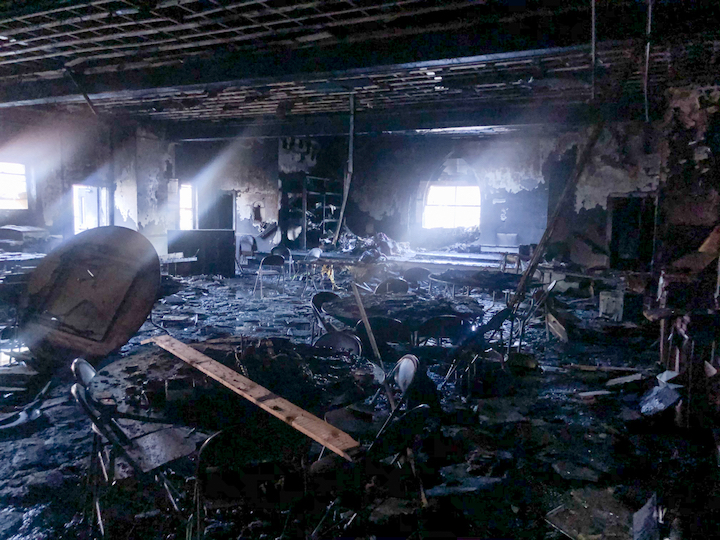 ---
Donate to Calvary Presbyterian Church
using Paypal. You don't need a
PayPal Account to donate. Click or scan below.
or you can mail checks to
Calvary Presbyterian Church
120 South Street, Newburgh, NY 12550
Make checks payable to Calvary Presbyterian Church
and note "fire fund" on the memo line.
Donations are tex deductible.
---
At 12:48 a.m Thursday morning, March 5th, 2020,  I received a call that our Church was in flames. Upon my arrival, there were at least two first companies fighting down flames and smoke in the rear of fellowship hall area. The origin of the fire has has not been determined. Investigators from local and state authorities will there by the break of dawn.
By God's grace, there were no injuries and the major damage was contained in the fellowship hall with first floor by the stage according to the fire chief. Damian DePauw, Jim Ferguson, John McDermott, Dawn Roth, Jobrielle Lewis and I were all gathered to witness the galiant effort of firefighters to limit the damage and save our sanctuary.
Clean up and renewal will be monumental, but God will provide. More details will be provided as we know more. Services will be determined, as we have no power or gas in the facility.
Prayers and believing God,
J. Edward Lewis Sr
Pastor and Teaching Elder
(Photos – click below images to see page 2 and
click on an image to enlarge and open the viewer)
Some good pictures of the fire department at work by Bill Johnson
(though the church name is incorrect)
News 12 Westchester Report updated
New 12 Westchester on Facebook