I finally have something to report!  Seems like a long time since much has happened at the church but this week Belfor came back and removed all of the debris in the sanctuary and also removed the carpeting.  The original tile is now exposed.  Here are some pictures provided by Glenn and Jennie H.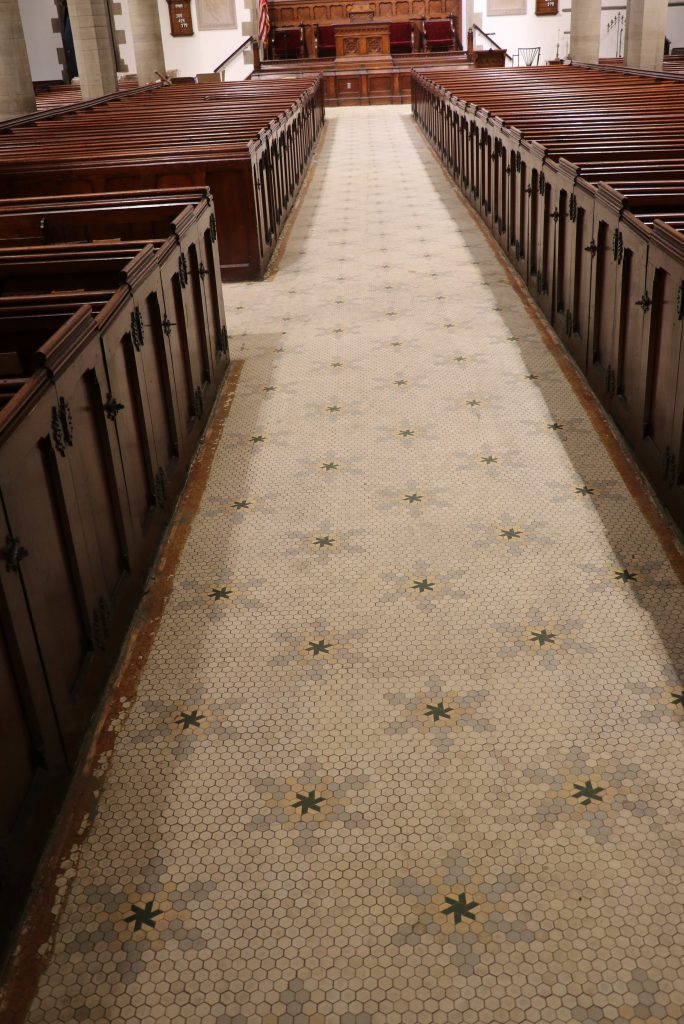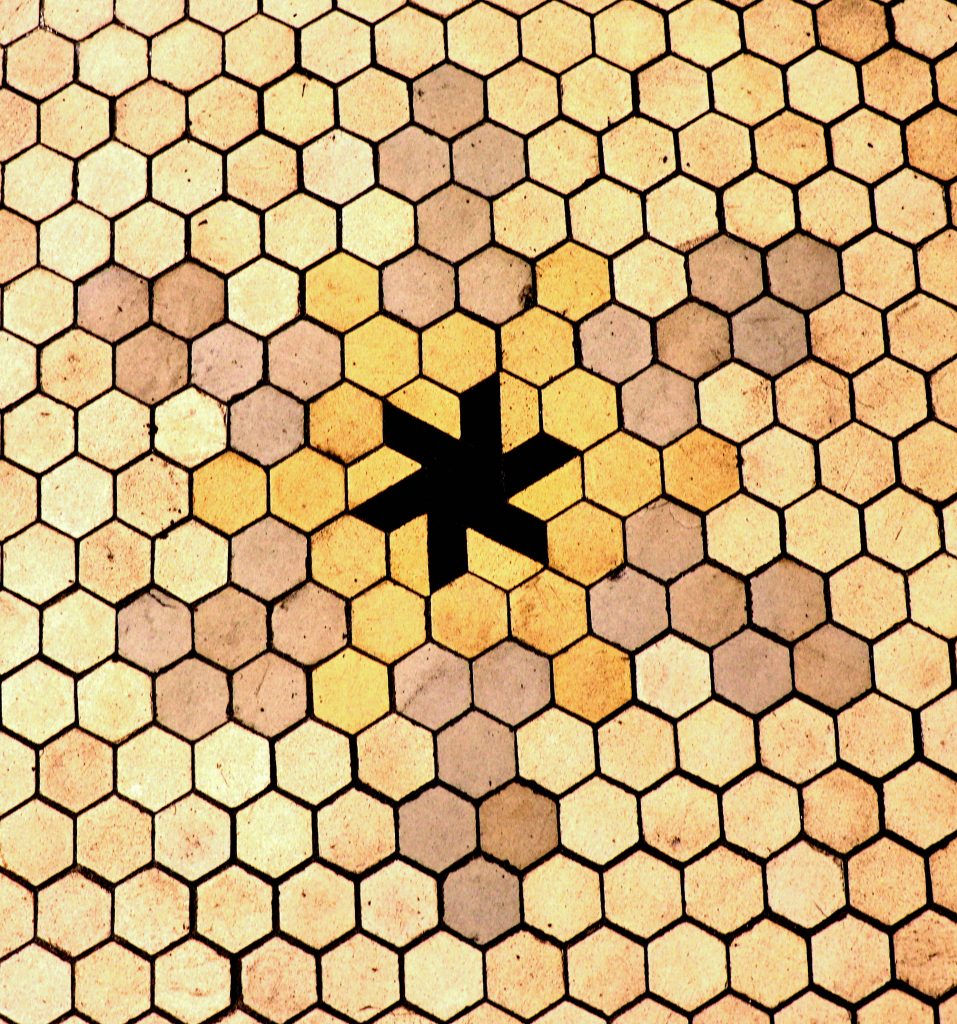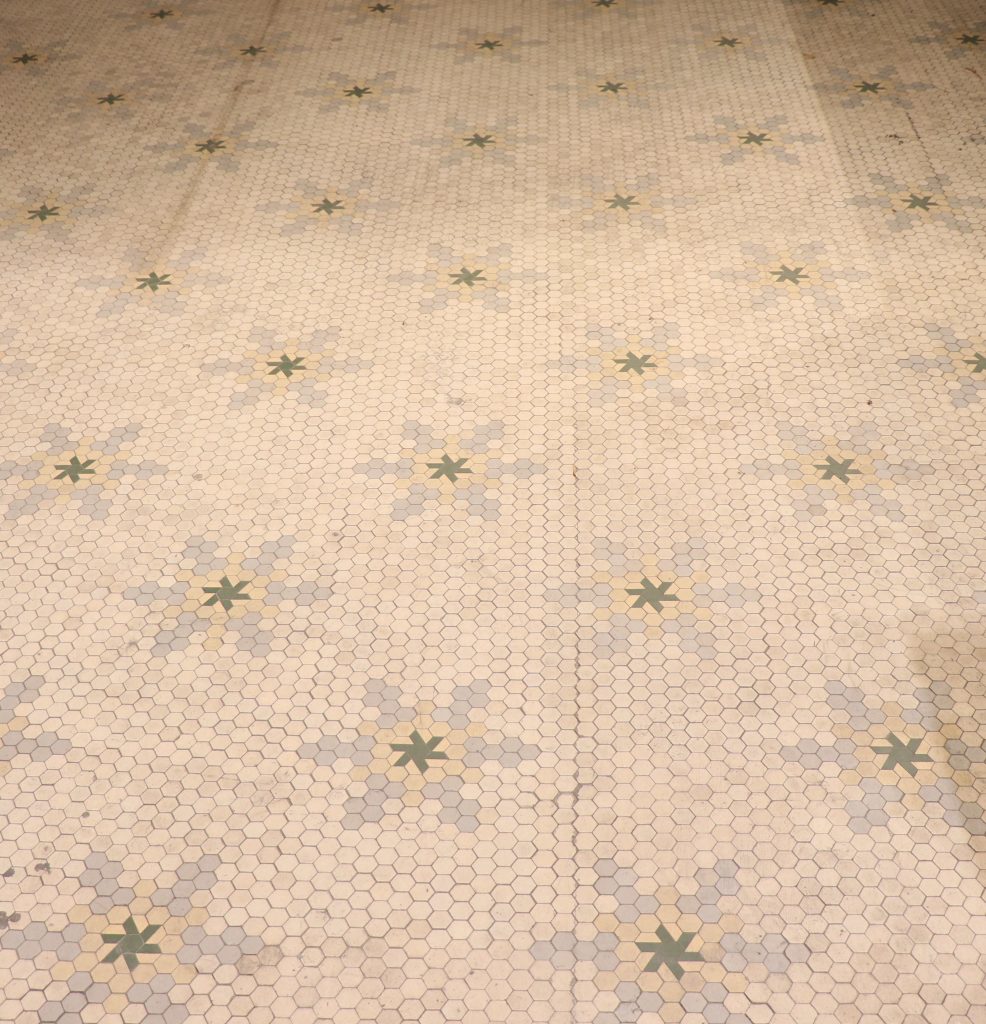 Also progress has been made toward the restoration of fellowship hall with the formal decision that a sprinkler system is not required.  Since was confirmed, plans for a new floor layout are being drawn up by the architect and Belfor is working on finding out exactly what the insurance will cover.  We have our building permit for the rehab and hopefully the plans will be finalized soon and work can start to get our fellowship hall back on its road to "recovery".  You will be hearing more about the plans in the week or so.
Now about news our bells and chimes:  As you all know, the day of the fire, with the help of Peter S., I removed the handbells and chimes from the church to keep them safe.  Here is the story of their journey from that day until now:
I live on the 3rd floor of my building and installed a hoist to bring items (in particular wood pellets for our stove) upstairs, rather than have to lug them up the 2 flights of stairs. This came in really handy for getting the chime and bell cases to my home. Here's a video of our hoisting one of the larger cases up.
So with Kris' help,  I got all of the smokey cases with the bells and chimes in them on my 3rd floor porch.  The cases were permeated with smoke so they had to stay outdoors for a bit, but were protected by the porch roof and tarps.  Once arrangements had been made with Befor to, as I call it, de-smoke-a-fie the cases, we moved all of the bells and chines (almost 100) to my 2nd floor for storage on the floor of a spare room and all cases were taken by Belfor.  Meanwhile approval for cleaning of both chimes and bells were received from the insurance company and I arranged to get them both scheduled for the work.  About a month ago both Malmark (chimes) and Schulmerich (bells) contact me to arrange for the instruments to be shipped to them for the cleaning.  So Belfor brought the cases back and the instruments packed up and picked up by UPS.
Neither the bells nor the chimes have had any work done on them for almost 20 years and you know our bell choir uses (or did before Covid) for rehearsals every week for an hour and a half, preformed using them in church about 20 times a year and also used them to attend the Hudson Valley Handbell Festival, and all day event held annually.  So in short they have been well used.  As you would expect there has been wear and tear on the instruments and this damage is not covered by insurance.
The chimes refurbishment has been completed and the additional cost above what the insurance covered was about $275, a cost that was covered by a special donation.  The chimes have been returned and are in storage at Normal Brothers (thanks to Roy and Peg P).
The handbells on the other hand are still at Schulmerich and we have received the quote for additional parts not covered by insurance because they are wear and tear.  This additional cost is about $2000.  I have been told that the money is not available  from the church's treasury to complete this project.  So I am turning to you to help out.  The total value of these bells is over $50,000, the insurance company is covering about $3000 of cleaning work on the bells so now it is up to you to help out,  If you can make a special donation to help the bell choir "bail out" their beloved bells, please make your check payable to "Calvary Presbyterian Church" and send it to Calvary Presbyterian Church, 120 South Street, Newburgh NY 12550. If you prefer to use a credit card or PayPal you can do this through our website  Be sure to note that the donation is for the bell choir so they get credit for the income and it goes to the correct expense.  Thank you ahead for your help.
As always this update comes with prayers and wishes for everyone that they are in good health and that life is good for you all.