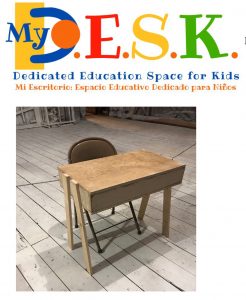 PRESS RELEASE For Immediate Release
Newburgh's Calvary Presbyterian Church to Build and Donate Desks to Aid with At-Home Learning
Construction starts this week on 30 desks to be donated to families at our neighboring school Horizons-on-the-Hudson Magnet School in coordination with their Parent-Teacher Organization.
Calvary's sanctuary will be turned into a make-shift workshop.
This is the first time our sanctuary will be used since a devastating fire gutted our adjoining Fellowship Hall building last March 5, 2020 and the beginning of the COVID-19 Pandemic.
Love Thy Neighbor (in action), Jim Ferguson and Peter Surgenor were inspired with this idea and are coordinating the efforts.
Desks will be built by a limited number of volunteers to ensure proper social distancing and COVID-safe precautions can be maintained.
The Horizons-on-the-Hudson PTO will donate books for scholars with each desk.
Desk materials have been purchased out of Calvary's Mission budget. We also wish to thank Heights Lumber in Newburgh for their help, Belfor Property Restoration for additional materials, and McNeilly Wood Products of Campbell Hall for cutting all the plywood desktops for us.
Construction on desks begins Tuesday, March 23, 2021 at 9 am at 120 South Street, Newburgh, NY. Volunteers will be working in our sanctuary at the corner of South and Grand Streets.
In this time of virtual learning, we recognize that some children in our community may be in need of a better place to work from home. We have created the My D.E.S.K. (Dedicated Education Space for Kids) Mission to build and donate simple wood desks for our young neighbors. We started by reaching out to our neighborhood school, just a block away from our church, Horizons-on-the-Hudson Magnet School. Families immediately responded with the need for almost 30 desks.
The desks measure 30 inches wide by 18 inches deep.
Press Contact:
Kate Cl