So since we last "spoke" the work at Calvary has continued.  American Eagle Electricians have been diligent working to get their work completed before the scaffolding is removed and it appears they have succeeded.  The chandeliers have been cleaned, rewired with LED lights and reinstalled.  And because the new service has been completed and not only these lights, but all lighting is on in the sanctuary. They were completing the installation of the fans at the top of the sanctuary.  I have include a picture of one of them and as you can see they blend quite well with the wood of the ceiling.  These will defiantly make the sanctuary more comfortable through out the year as well as help keep the air flowing in the room to help avoid moisture problems that have in the past caused paint damage.  The side lights have also been upgraded to use LED lighting, so with all of these changes our utility bill should be reduced,  Also the LEDs last a lot longer than the bulbs we were using, are more available and need changing less often. All positive benefits.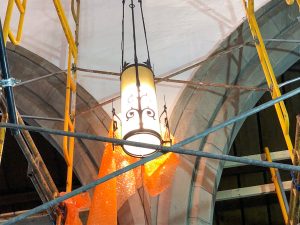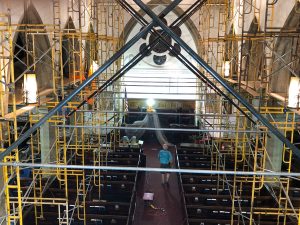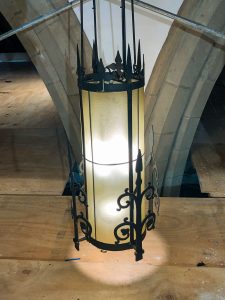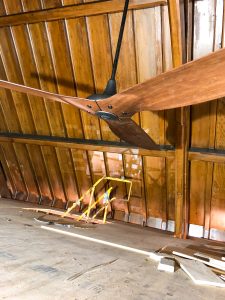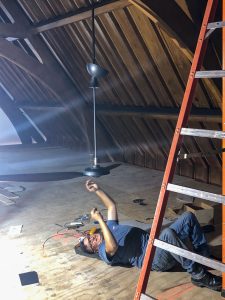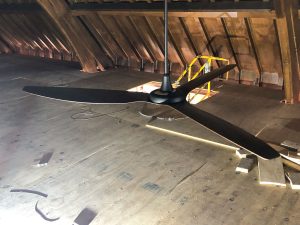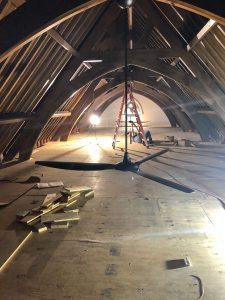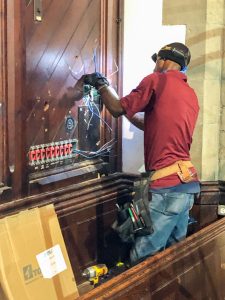 The sanctuary is also completely cleaned, scraped and repainted.  The scaffolding was to be removed this week.  I have not been there since last week but will try to get there this weekend for some update pics.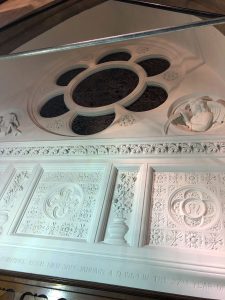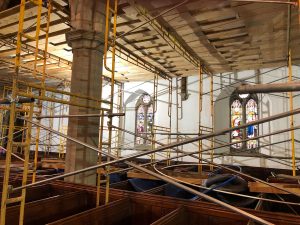 Peter S has taken the lead and has begun installing a new sound system for the sanctuary.  He has installed 3 tiny but effective microphones, and new speakers and a control panel will be installed.  So those of us that like the back seats and have compromised hearing should be able to hear everything – thank you Peter.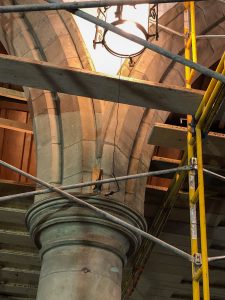 Also being completed before the scaffolding removal is the installation of the new alarm system in the sanctuary.  A sensor system has been installed along the ceiling of the room that will detect any smoke and temperature changes.  Charlie of CDR Alarm systems continued to add other modules required throughout the weekend.
Planning for the rebuilding of fellowship hall continues not only for the layout but the design of the finished look.  The fire committee again met with Geoff from Belfor to discuss options after our original plans were presented to the building department of Newburgh.  Tough decisions need to be made because we have a fantastic insurance policy but mo matter how you cut it there will be expenses above and beyond that which is covered,  We are planning on putting together a list of projects that need sponsors and will be sending that to our friends list in the near future and well as getting it to anyone that might be interested in helping.